Remodel kitchen in Alexandria VA, Kitchen Remodeling in Alexandria VA, Sam and Sons Kitchen Remodel, Kitchen cabinets Alexandria VA, Best Kitchen cabinets Alexandria VA, kitchen contractor near Alexandria VA, kitchen remodeler in Alexandria VA, kitchen contractor near Alexandria VA, kitchen contractor near Alexandria VA, kitchen remodeling near me
Kitchen Remodeling in
Alexandria VA
Kitchen Remodeling Services
Our Work Comes With a Warranty.
We deliver exciting kitchens that will leave you stunned in Alexandria VA
You've researched to get kitchen remodeling  inspiration, saved for your kitchen remodeling budget, and decided on your design. Time to go to the next level: Hiring  Sam and Sons Services as your kitchen remodeling contractor in Virginia. Sam and Sons Services means trust. We are licensed, bonded and insured remodeling contractor servicing Northern VA and the Washington DC area. Sam and Sons will make sure your project runs smoothly from beginning to end without any emotional frustration. It's critical to hire a trustworthy professional like us, proven to be honest, and respectful to your home. Contact us or call us at 703-256-8080
Kitchens Remodeling and Design in Alexandria VA
Does cooking dinner in your brand new kitchen two weeks from now sound too good to be true? Well, we're here to tell you that its' not only possible, but Sam and Sons Services, LLC can make that dream a reality. From high end designs to economy style kitchens, we work closely with you in details. Our staff of full-time technicians will repair your existing kitchen or design and build you a brand new kitchen. Because we have our own plumbers, electricians, and carpenters, Sam and Sons can ensure that your kitchen will be of the highest quality, please find below a partial list of what we can do to help you remodel your kitchen.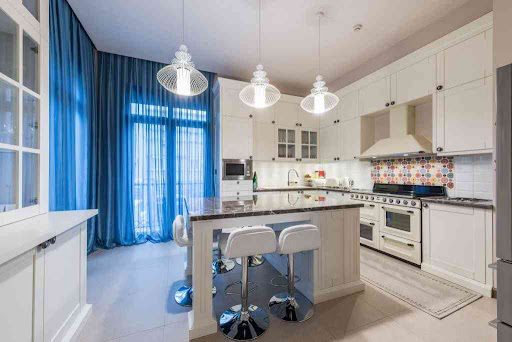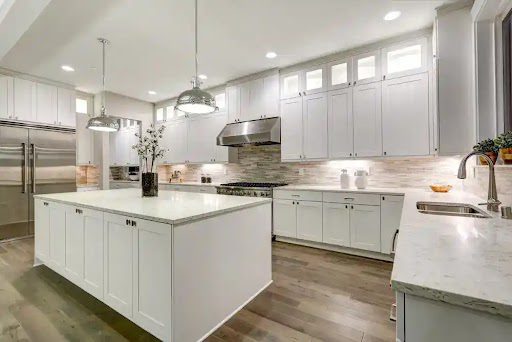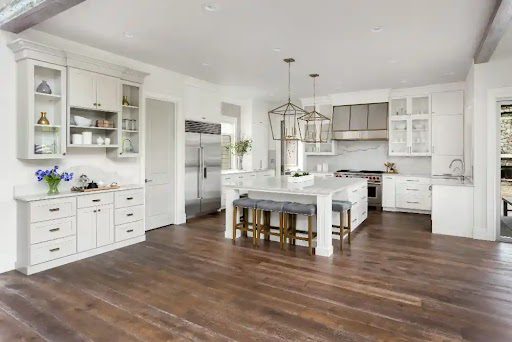 Your Kitchen Remodeling From Design To Completion in Alexandria VA
Our customers love our Kitchen and Bathroom remodeling, our goal is to provide you with the best layout and space usage possible, we use great quality materials and provide top of the line workmanship. Whether or not you made up your mind on your kitchen design, our experienced kitchen design specialists in Northern VA will help you finalize your decision by answering all your questions and clarifying the kitchen remodeling project steps and expectations, they'll guide you through the kitchen design, the type of kitchen cabinets, the countertop and kitchen flooring, the placement of the electrical fixtures, the timeline, the working hours, and the expected kitchen remodeling finish date
Kitchen Remodeling Projects will Increase Your Real Estate Value in Alexandria VA
Not ready to sell your home in Northern VA yet? No problem, but why wait until then to remodel your kitchen in Northern Virginia and then give it away to the next owner without getting the benefits of using the new remodeled kitchen? Apart from benefiting at the moment and for the next few years from using your new beautifully remodeled kitchen, you're also increasing your home value in Northern Virginia. A beautiful and remodeled kitchen in Northern VA will definitely add value to your home and will help you seal a deal fast and easy when time comes to sell your home and that translates to more money in your pocket.
Your Kitchen Remodeling Project Will get Our VIP Service and Our Attention To The Details
Our Kitchen Remodeling Department at Sam and Sons Services will take care of you from start to finish. We have been designing kitchens, remodeling homes and building houses for over 20 years and we can work with you to get the best outcome. We provide high quality work and take pride in our remodeled kitchens. We are fully licensed, Bonded and insured. Please contact us now or call us at 703-256-8080
A Kitchen Remodeling Project in Alexandria VA Will Save Your Home from Deteriorating
A deteriorating kitchen will affect the whole house in terms of living quality and home value. Cracked tiles, appliance problems, broken cabinet doors, peeling countertops, damaged electrical outlets and plumbing leaks won't get any better, they'll always go from bad to worse. Our kitchen remodeling services in Northern VA are a lifesaver as they will save your outdated old kitchen from deteriorating and are also about repairing anything that will obstruct your kitchen lifestyle. Please contact us now or call us at 703-256-8080
24-Hour Emergency Services
Our Team will answer all questions